There are 92 rooms in total, consisting of 91 permanent residential beds spread over three floors and 1 low care respite bed. We care for people with dementia, low care and high care needs.
Large (31m2 Room Size) Single Room
All rooms are large (31m2 room size) single rooms with ample cupboard storage for personal belongings and a private en suite with motion sensor lighting for safety and comfort.
A large window in each room overlooks the landscaped garden surrounding Dorothy Impey Home.
Other room features include:
Elegant decor, furniture and fittings have been chosen for the safety and comfort of our residents and to provide a homely and welcoming atmosphere.
Residents are encouraged to bring in some of their belongings, such as a favourite armchair and photos, to personalise their room tastefully.
All rooms are serviced daily, and our on-site laundering services also provide residents with the same day service for their clothing.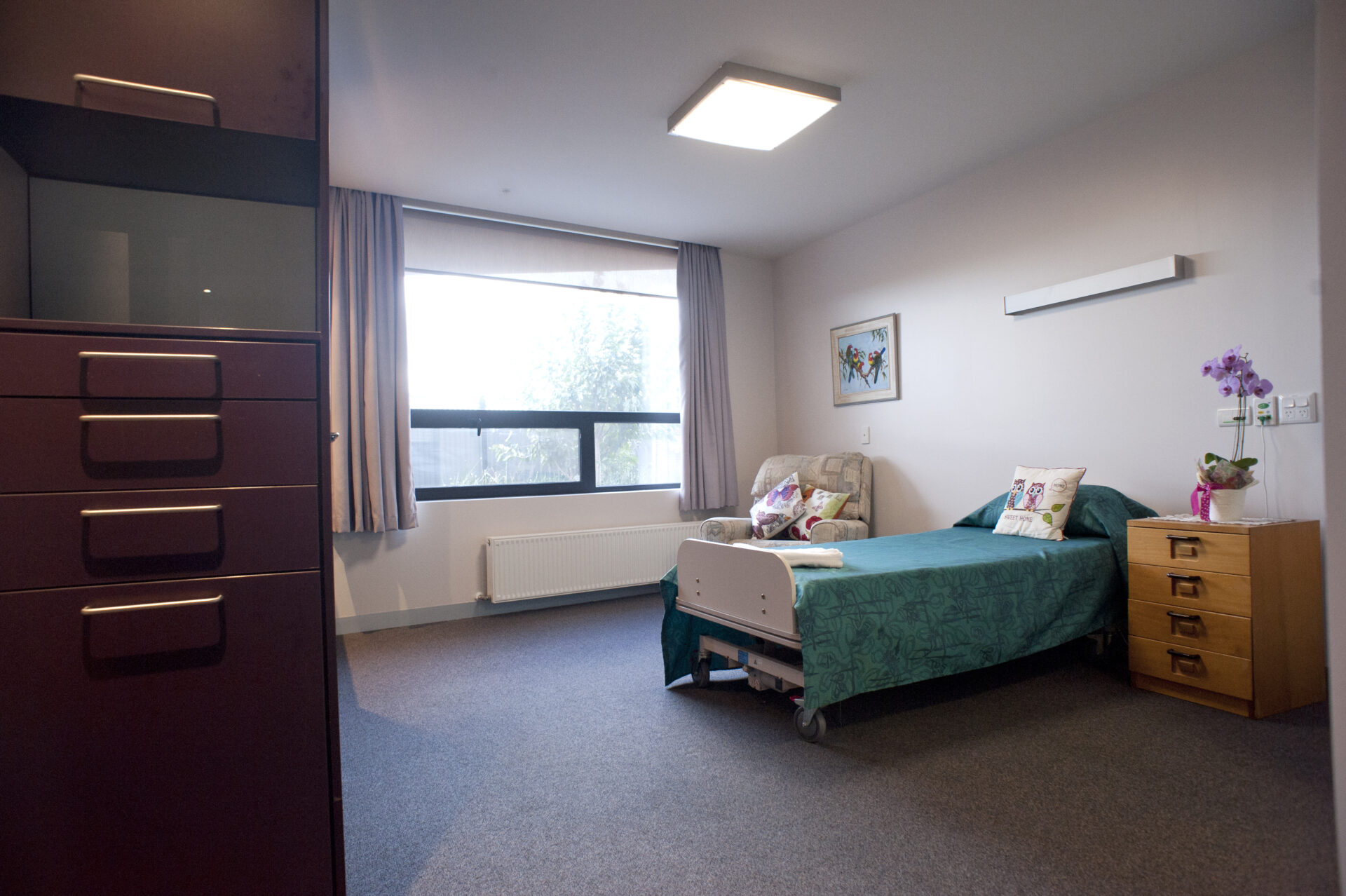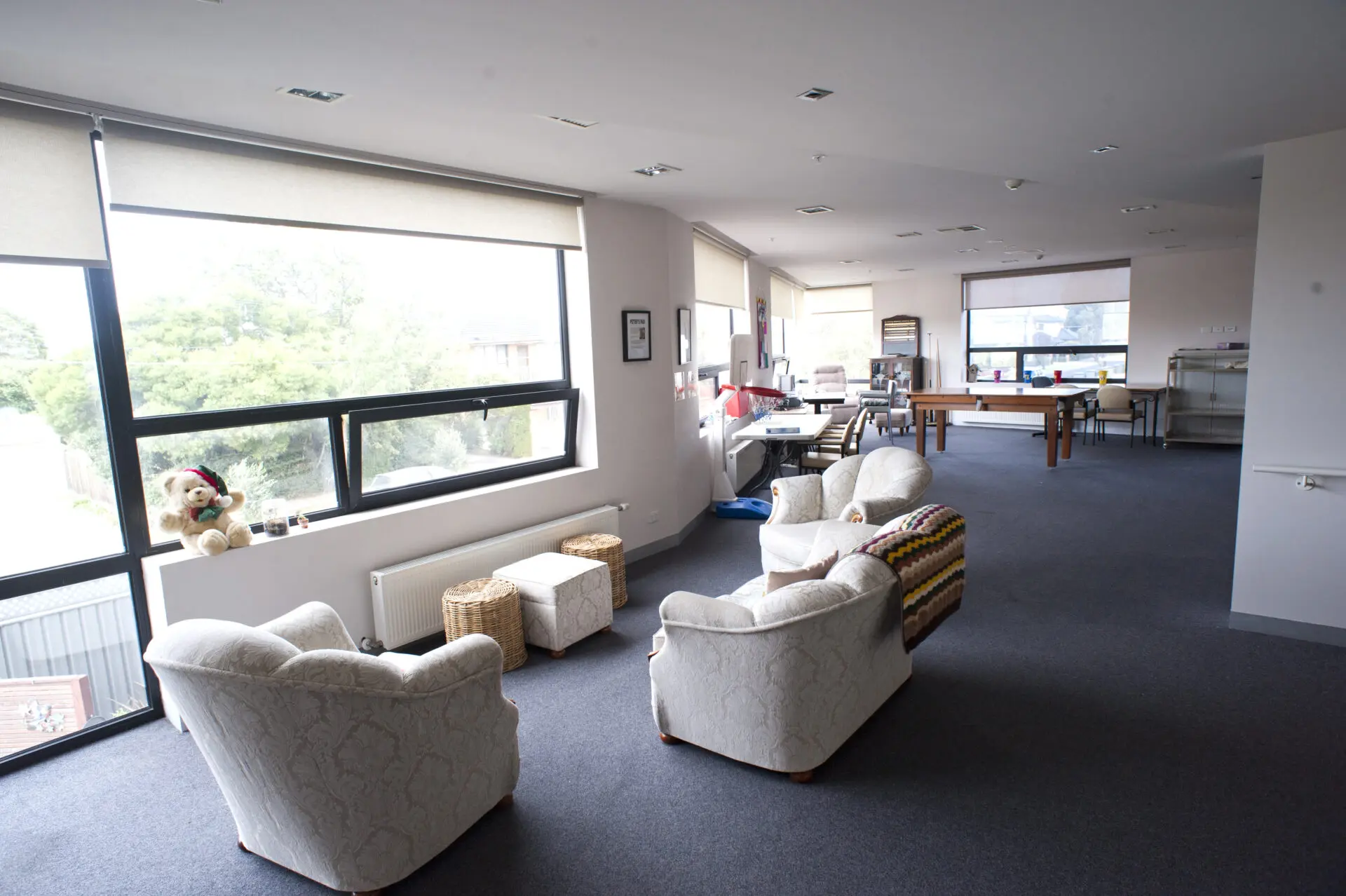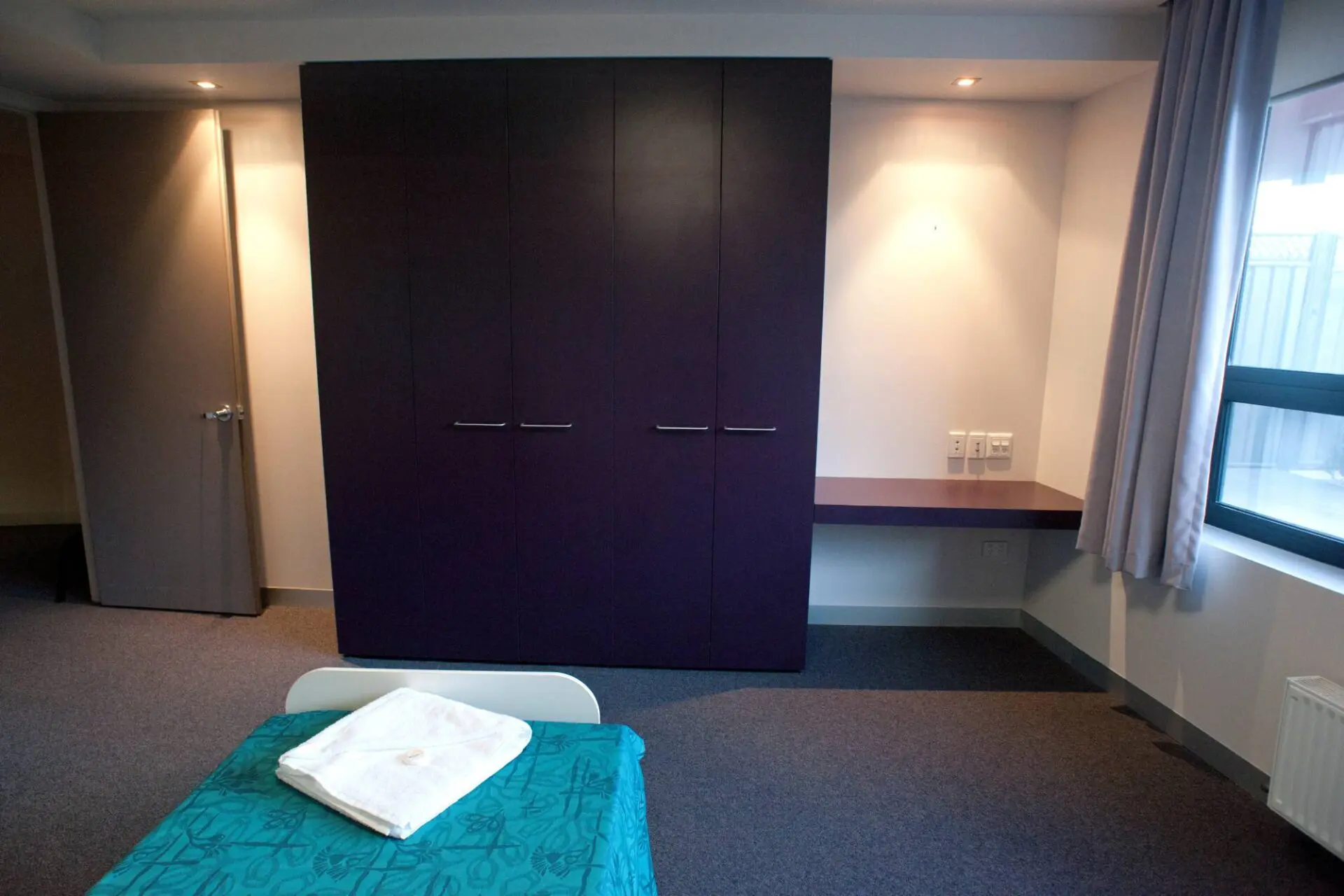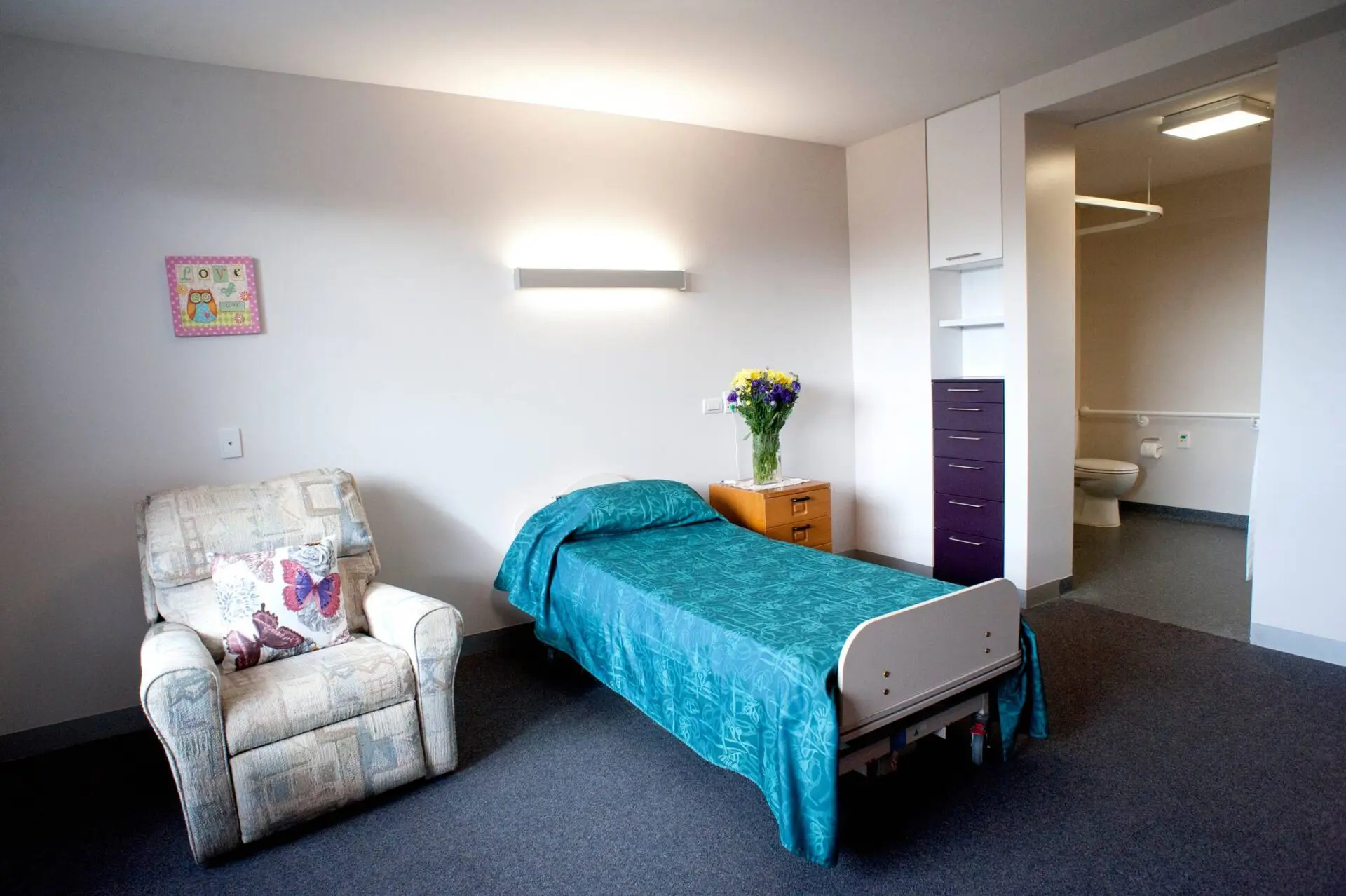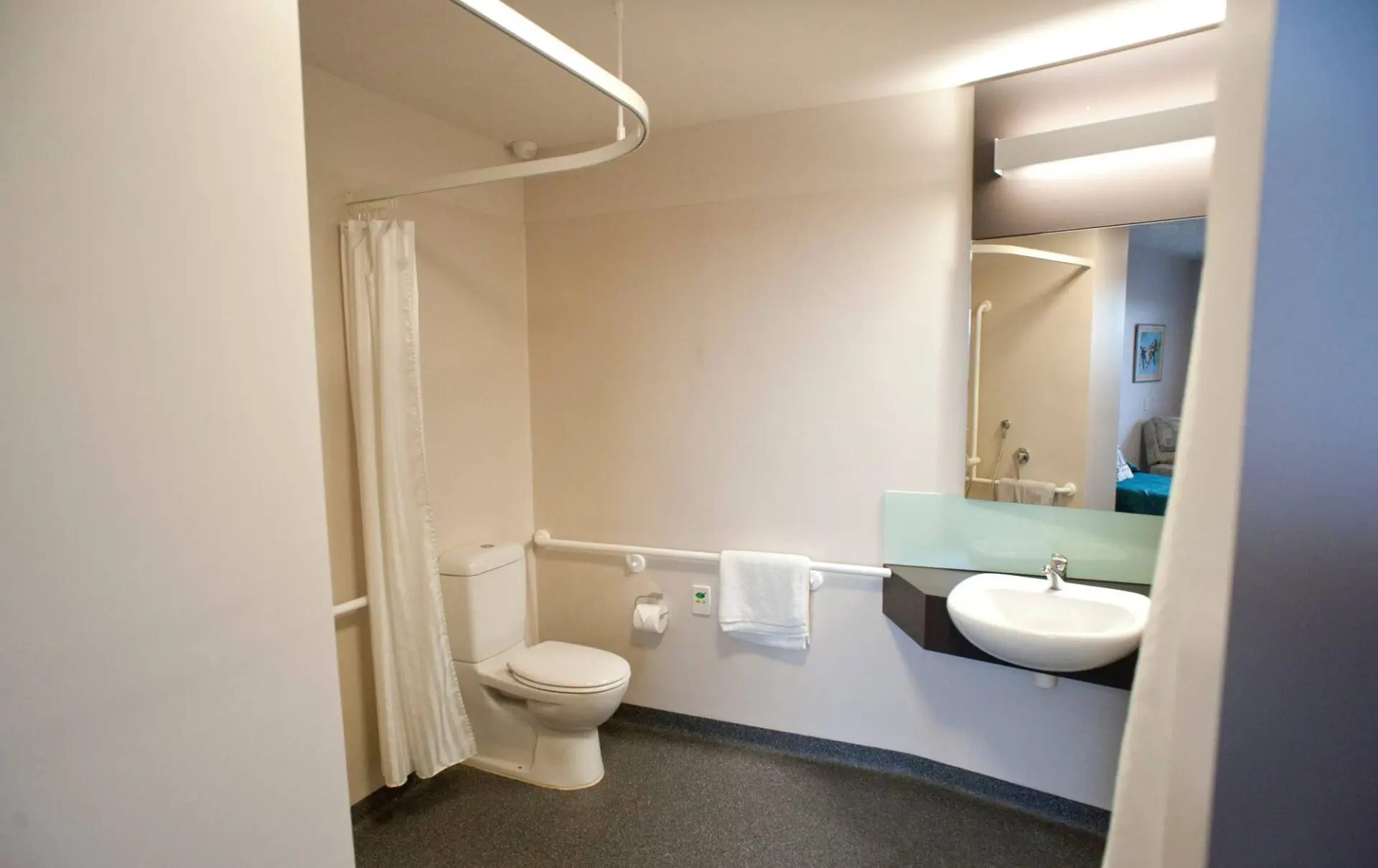 Government changes that came into effect in July 2014 have changed the way residents can pay for aged care. These changes will only affect residents that come into our care on or after 1 July 2014.
Basic Daily Fee.
This fee is set by the Government and applies to all residents. The fee is updated every March and September by the Government. This 'Board' equates to about 85% of the aged care pension and pays for hotel services (i.e. meals, laundry, cleaning and activities.).

Means-Tested Care Fee.
This is an additional fee some residents are asked to pay to contribute to the cost of care. The Department of Human Services will assess your income and assets and inform you whether you are required to pay this fee and how much it will be.

Accommodation Payment.
If a resident has the assets, they are asked to make an accommodation payment in the form of a DAP (Daily Accommodation Payment) or RAD (Refundable Accommodation Deposit), or a combination of both. This will be as per legislation issued by the Department of Human Services.
Even though our Refundable Accommodation Deposit (RAD) is $550,000, we tailor-make the RAD to suit every prospective resident based on their financial situation. It means that everyone can afford to come to Dorothy Impey Home. Residents can choose to pay for their accommodation by a refundable deposit, a daily payment, or a combination of both. A refundable deposit is paid as a lump sum amount, and a daily payment accrues daily and is paid periodically, for example, monthly. A combination payment includes both a partial lump sum and daily payments. Of the total 92 beds, one bed is allocated to respite.
For more information about accommodation and the costs that may apply to you, please search Dorothy Impey Home on www.myagedcare.gov.au
How to Apply for Accommodation
For an applicant to be considered for admission, we request the following paperwork be provided to us:
A copy of your current Aged Care Assessment Record (ACAR)

An Income and Assets Assessment

Dorothy Impey Home application form
When a room becomes available, we go through applications for a person appropriate for that available room or area.
We then invite suitable applicants to discuss their care needs and financial details and exchange the general information required by either party. The prospective new resident goes through an admission process if things work out.
A date is set for entry. Families may bring personal items familiar to the resident. We usually supply an electric bed (for OHS purposes). The family usually supply an easy chair, TV and anything that will make the resident feel at home.
1. Aged Care Assessment Record (ACAR)
We request that you provide us with a copy of your current Aged Care Assessment Record that is no more than 12 months old. This assessment can be arranged by contacting the Aged Care Assessment Service, which can organise an appointment or home visit to assess the level of care required. Hospitals and other healthcare professionals such as medical practitioners can also assist.
The Aged Care Assessment Service can be contacted at +61 (03) 8387 2129
2. Income and Asset Assessment
To establish the agreed accommodation bond, we require families to provide an Income and Assets Assessment under section 44-8AB of the Act from the Department of Health and Ageing.
The Income and Assets Assessment is obtainable by contacting Centrelink
Please visit www.myagedcare.gov.au for information on the fees or charges that may apply to your admission at Dorothy Impey Home.
3. Dorothy Impey Home Application Form
Click on the download here button below or pick up an application form in person at:
Dorothy Impey Home
317A O'Hea Street
Pascoe Vale South, VIC 3044, Australia
Facility tours
Tours of Dorothy Impey Home are by appointment only.
Please ensure you bring your own Face Mask (Surgical) to wear.
Tours can take up to 30 minutes on average, and there is time for questions at the end. Please ensure you book in advance by calling us on +61 (03) 8102 2400.